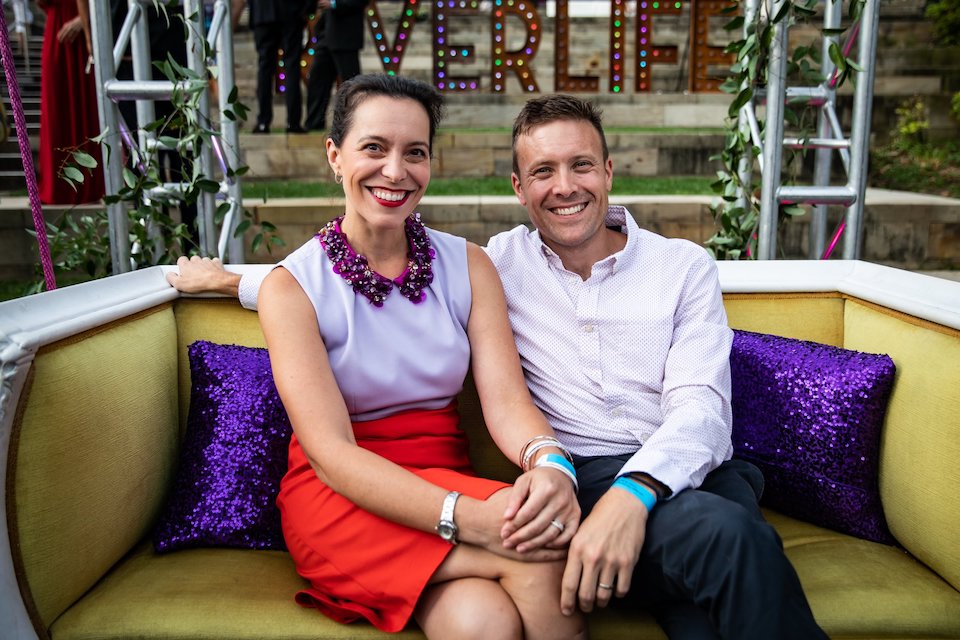 Who we are
Taylor Davidson is the Founder and Managing Director of Foresight, a product and services company helping founders and investors prepare the best financial and operational projections for fundraising and business planning. He has worked with over 35,000 companies and more than 600 emerging managers from 116 countries around the world, primarily assisting from preseed through B rounds of fundraising, and often does webinars for accelerators, incubators, venture portfolios, universities, and groups around financial modeling and forecasting.
Sloane Davidson is the Founder and Executive Director of Hello Neighbor, a nonprofit organization that works to improve the lives of recently resettled refugee families by matching them with dedicated neighbors to guide and support them in their new lives. Prior to starting Hello Neighbor, Sloane worked for fifteen years across the intersection of philanthropy and digital marketing.
Track record
From 2012 to 2015 Taylor worked at kbs+ Ventures, focused on investing in early-stage advertising and marketing technology. Investments included:
Crowdtwist, acquired by Oracle in 2019
Adaptly, acquired by Accenture in 2018
Awe.sm, acquired by Unified
Polymorph, acquired by Walmart
As an Investor in Residence at Venture for America in 2015 Taylor helped setup and run their first accelerator for fellow-founded companies.
Since 2015, Taylor has run Foresight, a boutique product and services agency working with startups and venture funds on financial projections and operations.
Personally, Taylor has invested in:
Moment, as an employee from 2015 to 2016
Causal, seed round in 2020 and A round in 2021
Gumroad, through their Republic offering in 2021
Calm Fund, fka Earnest Capital, as a limited partner, 2020-current
ODX Community Fund, as a limited partner
Confidential, A round in 2021
Confidential, D round in 2021
Confidential, C round in 2021
Confidential, Seed round in 2022
Confidential, Preseed round in 2022
Confidential, Seed round in 2022
Confidential, A round in 2022
85+ preseed through B round investments through Angellist syndicates across fintech, worktech, enterprise, health, and crypto/blockchain (all investments confidential and undisclosed)
Taylor participated in On Deck Angels in 2021 and is actively growing his angel investing network.
What we invest in
We look for founders that have a deep understanding of the space they are in and a unique insight into the problem they are solving. We care about backing people building the things we want to see in the world. We look to invest in founders outside of the traditional circles of priviledge, and will view past experiences and backgrounds with an open eye and ear. Integrity, ability to communicate, capacity to build, and empathy towards how you, your employees, users, and stakeholders impact the world are highly valued.
We will look at anything, but especially fintech, future of work, enterprise and government tech, blockchain, and health. We will avoid companies that do not understand or value their broader impact the world. We have made international investments and will do more. We will make crypto-native investments and are comfortable with blockchain technologies.
We look for large markets where the timing is right for disruptive changes, or emerging markets with the potential to be mainstream.
FAQ
How much do you typically invest? We do $1k to $10k checks into preseed through A rounds, and can do 5-20 direct investments per year. We are able to provide early commitments and introductions to venture investors, as well as syndicate larger investments to our syndicate. We also invest in companies through syndicates and SPVs led by others, into venture funds, and into crypto tokens.
How do you balance personal investing with your work? My day-to-day work with startups and funds in building financial models is highly aligned toward meeting and working with quality founders and investors, and helps demonstrate capability to be a value-added investor.
I want to invest with you, how can I do that? Accredited investors can back our syndicate to get access to personal investment opportunities we syndicate - it requires no commitment to invest in any deal. Introductions to deals where we can be valuable investors are appreciated, and we can co-syndicate if interests and allocations align. If you're unfamiliar with the Syndicate structure, I back about 25 syndicates and enjoy seeing new investment opportunities daily, I'm happy to answer any questions.
Do you invest in funds? Yes, and we are looking for emerging managers to invest in, particularly in crypto/blockchain.
How should we contact you? Please don't call, text, DM, Facebook or LinkedIn message. Just email hello@taylordavidson.com or hello@sloanedavidson.com
What is your investment process? We look at all emails, regardless of whether it's a warm introduction or cold outreach. We will not respond to all emails, please do not try to reach us in other ways. We try not to have meetings and will usually ask for a deck or memo on the opportunity so I can decide if it's something that we would be interested in understanding deeper. We do not sign NDAs. We prefer conversations to "pitches", please send a deck before we talk so we can be properly prepared. We aim to make a commitment within two weeks from initial introduction, and will often do market, potential customer, and founder reference checks, noting that we match the depth of our diligence to the expectations for the stage of the business. We know how disruptive fundraising can be to the business growth, and aim to provide clear, empathetic communications and decisions throughout the process.
How do you approach investing? To understand a bit more about how Taylor approaches investing and his relationships with founders, here's what founders said about Taylor back in 2013, and here's what he wrote about his first experience as a VC.