Exploring Castles in the Sky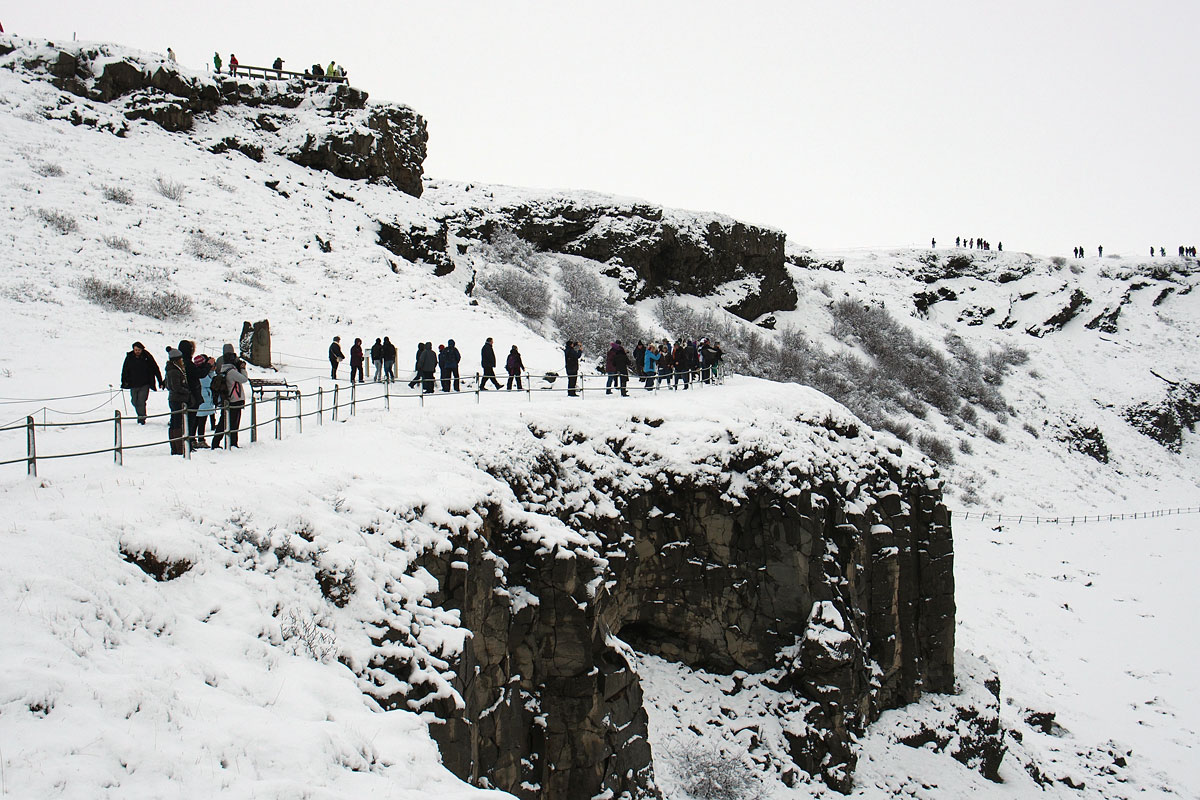 For years, I've wanted to relax in the Blue Lagoon in Iceland, drop my body into the warm, blue, mineral-rich waters and gaze into the mist that joins the warm water and the cold air. I imagined bobbing my head in the water and mist languidly, bouncing from steam room to water, from hot spots to cold spots, from blue water to grey sky.
I also imagined driving deep into the wilderness to see massive glaciers, waterfalls, and towering black volcanic peaks. I imagined crossing gorges over raging rivers, driving from small town to small town in the corners of the country. I imagined standing in the dark cold watching the dancing green lights in the sky.
All castles in the sky, surely. But it's something I've always wanted to do. And a life well lived is about exploring castles in the sky, no matter what happens. Sometimes things simply have to be seen for ourselves.
So when I had the opportunity to explore Iceland for myself (with ever-observant, of course), I came with high anticipations but no expectations.
Wherever we go, we always bring ourself. Make sure you bring the adventurous part of your soul to Iceland, because there's plenty of ways and space to indulge your sense for adventure.
* * *
Couple reflections and travel pointers to Reykjavik and Iceland:
If you want the scoop on what to see and do in Reykjavik from a local that really knows what to do, get an Inside Travel Guide to Reykjavik. Otherwise, here's my thoughts. I also made a Foursquare list for Iceland to make it easy to see some recommendations.
Don't convert all the prices to dollars, it might scare you a bit. Yes, everything is a bit more expensive than NYC. Enjoy it nonetheless.
Where to stay: I liked 101 Hotel and Kex Hostel. The 101 Hotel (Tablet Hotel listing), a contemporary boutique hotel with a sleek, modern design and a warm, social lounge, is located just off Laugavegur, the main shopping, bar and restaurant street in downtown Reykjavik. The Kex Hostel (which has both proper hostel dorm rooms and private single and double rooms), a short walk from the 101 Hotel and just a minute's walk from Laugavegur, has an incredibly hip vibe and is worth a visit for eating and drinking even if you don't stay there.
Blue Lagoon. Yes, it's a bit expensive and a bit of a tourist trap, but it's worth the experience. Do it first thing coming from the airport on your way to Reykjavik, or on your way out of Iceland on your way to the airport. Either way, there are many buses and tours (including Reykjavik Excursions) that can make it easy to visit. We visited prior to our flight out of Iceland, and it was a great way to relax before flying. No matter how you do it, buy your ticket in advance online and skip the entrance line.
The Blue Lagoon isn't the only way to enjoy an outdoor heated pool. There are a number of them around town that are easy to visit and far cheaper than the Blue Lagoon. They're regular, normal places for locals to go, but some intrepid tourists go there, and it's pretty easy to figure out what to do. Laugardalslaug has the most extensive facilities, and locals say it's great, and I enjoyed it. Just a couple mile walk or a quick city bus ride away. Although we didn't visit it, Nautholsvik Geothermal Beach sounds pretty cool, and there are many other heated pools in Reykjavik to enjoy.
For the best view of the city, go to Hallgrímskirkja and go up the tower. Beautiful view of the city, waterfront, and the mountains.
The tourist system is well evolved, and it's easy to figure out how to see what you want to see. There's a range of opportunities from group bus tours to private tours, from package tours that all the companies run to completely custom tours. If you want it, you can probably do it. As long as you can enjoy the weather. We used Reykjavik Excursions for a Golden Circle Tour of Gullfoss waterfall, Geysir geothermal area, and Thingvellir National Park, and it was an easy way to get an "intro to Iceland nature" tour. I'd go for the full day tour instead of the half-day tour, but that's me.
Northern Lights. It's a magical experience that's more of an adventure to find and see than you think. We took a private guide who took us into the mountains outside Reykjavik for our own chase of the lights, and it was a great experience. Check out his website and Facebook page. Try to book a night to see the Lights as early in your Iceland trip as possible, because the weather and clouds sometimes get in the way and make it impossible to see the Lights some nights.
We didn't do too many museums, but the National Museum of Iceland sounded pretty cool for an intro to Icelandic history tour.
We didn't get to do it, but I'd love to take the ferry to the island of Videy for some hiking and to see the Imagine Peace Tower.
For eating and drinking, couple suggestions: lobster soup at Sægreifinn, Kolabrautin Restaurant for a nice meal and a great view from Harpa, Laundromat Cafe for a good meal with great ambiance, Tie Droopar for coffee and cakes, Bergsson for breakfast, and Reykjavik Roasters for a great coffee shop.
I enjoyed visiting in the winter. It was warmer than NYC, and even if the sun is only up for 4 hours a day, it was a great experience.
Wifi is everywhere. Leave your phone on airplane mode and leave wifi turned on, and your phone will pick up location for most photos you take. The MapsWithMe app is a great way to store detailed maps offline on your phone. And with the Skype app on your phone, you can make calls (international and domestic) pretty easily very inexpensively over wifi.
The weather is part of the fun. Enjoy it, no matter what it is, because that's part of the fun of exploring Iceland.